Auto Collision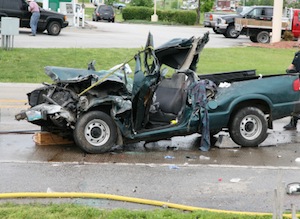 Over the last 25 years Kevin Ford has litigated auto collision cases for both the insurance defense and the plaintiff victim. Mr. Ford puts this earned experience to good use when representing victims of car crashes. Today, automobile insurance companies, including the largest insurers in Georgia, such as State Farm, Allstate, GEICO, Liberty Mutual and Progressive are fighting tooth and nail and harder than ever to pay the smallest amount possible for your injuries and pain. It's true. Auto insurance companies play the numbers game and try to save a hundred dollars here or a thousand dollars there. Multiply the insurance companies' savings by several million claims a year and that is a lot of money that victims left on the table and out of their pocket. These insurers especially relish claims with victims who are not represented by an attorney because the injured party does not have the leverage and knowledge to obtain and know the true value of their respective claims are in Georgia. That is where Mr. Ford steps in and leverages your auto wreck insurance settlement to the MAX!
Mr. Ford's protected service mark in Georgia is that "AGGRESSIVE ATTORNEYS GET YOU MAXIMUM POSSIBLE SETTLEMENTS" and that is exactly what Mr. Ford believes and practices in the representation of injured victims. That means when other attorneys are not interested or experienced to take your auto collision claim in Georgia to the next level and file suit against the giant insurers to obtain fair compensation, call Mr. Ford; unapologetically aggressive for you! Mr. Ford takes great pride in accepting each case and each client on a personal basis as it they were a member of his own family and steps into the ring and fights for you!
It was estimated in 2000 that the total economic cost of auto accidents in the United States amounted to $230.6 billion dollars or $820.00 dollars per person in the United States by the U.S Department of Transportation. Generally speaking, there are over six million car wrecks in the United States each year. Injuries sustained in a motor vehicle collision can have far reaching or even catastrophic effects.
In Georgia, the injured person and his/her family may be entitled to money compensation for injuries arising from auto, truck, motorcycle and pedestrian collisions. Georgia law requires that drivers maintain auto insurance. In cases where the tortfeasor driver has insufficient or no auto insurance at all, the injured person may be eligible for compensation from his/her own insurance company under his/her uninsured/underinsured motorist policy. Even in situations where the injured person was partially at fault, Georgia law may permit a partial recovery. The comparative fault doctrine in Georgia allows for compensation to an injured person who is less than 50% at fault in a motor vehicle collision.
Compensation ("Damages") may include:
Past / future medical bills
Lost wages
Property damage
Actual pain of injury
Shock of impact of collision
Mental anguish
Permanent injury
Loss of enjoyment of life
Physical disability
Loss of consortium
Top Ten Tips at the Scene of Car Collision to Max Your Settlement!
Do not leave the scene of the collision.
Send a witness to contact the police.
If you are qualified to do so, render aid to other victims.
If you sustained injury, stay in your vehicle.
Try not to move your vehicle unless obstructing traffic.
Seek medical treatment if needed.
Gather as much information regarding the collision as is possible. Write down the names, addresses, and phone numbers of all passengers, witnesses, and driver. Obtain insurance information from the driver and owner.
Do not admit to false responsibility for the collision - what you say could be used against you.
You may be entitled to compensation - contact a competent personal injury trial lawyer.
If able, take photographs of the damaged vehicles and scene of collision with your cell phone or other camera,