Truck Accidents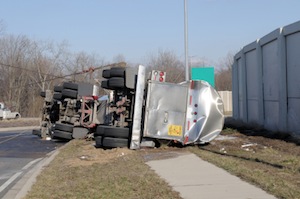 More and more tractor trailers are operating on the roads and highways in Georgia. As more and more trucks continue to increase operation in Georgia, so does the increase or incidence of truck accidents and collisions in Atlanta and throughout Georgia. The statistics gathered by the National Highway Traffic Safety Program (NHTSA) and the United States Department of Transportation show that in 2007 roughly 413,000 large trucks were involved in traffic collisions throughout the country and approximately 101,000 persons were injured in those truck accidents.
Causes and Factor of Truck Collisions
Some physical factors that were common in truck drivers in accidents were:
alcohol use
drug use
driver fatigue
illness
prescription drug use
vision impairment
On occasion these factors enabled truck drivers to be inattentive to the roadway, fail to repair or fix equipment, fail to properly maintain truck, improperly load the truck, converse on the mobile telephone, drive under the influence (DWI/DUI) or conduct inadequate surveillance of vehicles and their surroundings which caused tractor trailer drivers to:
follow too close behind other vehicles
fall asleep at the wheel
misjudge the gap between vehicles or lanes
fail to yield
falsely assume a car drivers' actions
make illegal maneuvers
fail to follow traffic signs/signals
perform inadequate evasive action
engage in aggressive driving behavior.
Let's face it – truck drivers are human and as such make human errors. On occasion truck drivers are upset prior to the wreck, operate under driver related pressure to deliver a load on time or drive a certain number of miles before the next stop.
There are many trucking companies throughout the country. Some companies are run responsibly and have good safety records and others are run irresponsibly and have poor safety records. Moreover, these trucking companies are competing against each other for contracts for the delivery of goods throughout the country. These demands sometimes lead to grueling physical demands placed upon the tractor trailer operators on the roads on Georgia and the country.
Examples of Truck Accident Injuries
Amputations of leg or arm
Back & spinal cord injuries
Broken bones
Crushed injuries to limbs and organs
Death
Disfigurement to the face or body
Head & closed brain injuries
Pain and Suffering
Partial or full paralysis
Permanent disability
Scarring
Second and third degree burns to various areas of the body
Injuries from truck crashes in Atlanta and Georgia are devastating and can range from death to serious permanent injuries. The NHTSA has concluded that large trucks were more likely to be involved in fatal multiple vehicle crashes than were passenger vehicles. According to the NHTSA and Center for National Truck and Bus Statistics (CNTB) the largest number of truck accidents occur in California, Florida, Georgia, Pennsylvania and Texas and 2/3 of fatal truck accidents occur in rural areas in daylight.
Georgia, as well as the federal government, has special laws that apply to trucks operating on the roads in Atlanta and throughout Georgia. Frequently, these laws limit the number of hours that a truck driver can drive without resting, the weight of the load in the trailer and most other aspects of truck driving. Often, the violation of these laws by a truck driver and the trucking company is the reason for the cause of the truck accident. The Law Offices of Kevin C. Ford frequently works with trucking experts to establish the cause and fault of the collision.
Do Not Delay – Call Now for a Free Consultation From an Experienced Attorney
If you are injured in a tractor trailer collision or truck accident in Georgia, Mr. Ford can help you receive the maximum compensation you deserve for your injuries, lost earnings or wages, pain and suffering, and other damages. The Law Offices of Kevin C. Ford is currently accepting trucking accident cases throughout Georgia. Please contact us today for a free consultation.