Workers' Compensation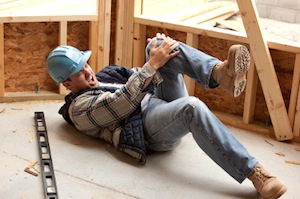 Have you sustained an on the job injury at work? Workplace injuries are commonplace. In some cases, the injured employee is not receiving adequate attention, explanation, or help from his employer or the workers' compensation insurer. Simply stated, workers' compensation is compensation paid by the employer/insurer for income, medical, and rehabilitation benefits when you are injured on the job.
Common workers' compensation injuries include: back and neck injuries, carpal tunnel syndrome, closed head injuries, death claims, construction accidents, trucking accidents and catastrophic injuries.
There are several benefits provided in Georgia for workers' compensation injuries:
Income Benefits
Temporary Total Disability ("TTD")
If the job related injury results in total disability to work, then the employee may be eligible to receive income benefit based upon two-thirds of the average weekly wage up to a maximum of 400 weeks, excluding catastrophic injury.
Temporary Partial Disability ("TPD")
If the job related injury results in an inability to earn a gross average weekly wage equal to the wage employee was earning previous to the injury, then the employee may be eligible to receive income benefit based upon two-thirds of the difference between gross average weekly wage before and after the injury up to a maximum of 350 weeks.
Permanent Disability ("PPD")
If the job related injury results in actual physical impairment, the loss of or the loss of use of specific body members, or the loss of the whole body, then the employee may receive a set dollar amount according to a standard rating schedule.
Death Benefits
In the event that an employee instantly dies from a job injury or death later results from the job injury, Georgia workers' compensation law provides benefits, including payment of medical expenses of injury, burial expenses, and weekly benefits to employee's total or partial dependent(s).
Medical Benefits
In general, an employee is entitled to medical benefits that effect a cure, provide relief, or return the employee to suitable employment. The medical care is at no cost to you and you can receive reimbursement for mileage related expenses traveling to and from your health care provider. Generally, the employer gets to direct the employee to its health care providers on a predetermined panel of physician list. The employee is allowed to change physicians on the list one time. If the employee is dissatisfied with medical care after the change, then typically the employee would file for a hearing with the State Board of Workers Compensation in order to request a further change in physician.
Rehabilitation Benefits
Vocational
If, as a result of your job injury, you are unable to return to your previous employment due to injury limitations, then you may be eligible for assistance in locating other employment. The goal of vocational rehabilitation is to enable the employee to return to gainful employment.
Rehabilitation
In cases of catastrophic injury or where parties agree, the employee may receive assistance in assessing, planning, implementing, coordinating, monitoring, evaluating options and services to meet an injured employee's health care needs. In some cases, a rehabilitation supplier may be appointed to coordinate such services under a customized individual plan.
Catastophic Benefits
In some cases, the employee has sustained a catastrophic injury which could include a: (1) spinal cord injury; (2) multiple amputations; (3) severe brain or closed-head injury; (4) second-or third degree burns over twenty-five percent of the body as a whole or third-degree burns to five percent or more of the face or hands; (5) total or industrial blindness; or (6) any other injury determined to be catastrophic by the board. In those cases, the employee will also receive the aid of a rehabilitation supplier.
Links TAKE CHARGE NOW AND CALL TODAY
The Law Offices of Kevin C. Ford is currently accepting on the job injuries and workers' compensation claims throughout Georgia. Please contact us today for a free evaluation and consultation.